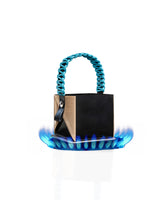 What is the Bear Bowl?
The Bear Bowl is the cook pot that folds flat!  It comes in three different sizes and has a max capacity of 32oz, 64oz, or 128oz.  It's lightweight and small and can actually fit in your pocket making the Bear Bowl the perfect cook pot for all your outdoor adventures.
Buy Now
Proudly featured at some of your favorite spots
What People are Saying
My go-to cook pot *****
Highly recommended. I cook and boil water in my bear bowl and I've never had any issues. I love how it folds and how lightweight it is. Genius.
Love my bear bowl *****
Love this bowl it's kept in my emergency bug out bag in the car. As it folds flat means I can put a few extra items in.
These are wonderful *****
These are wonderful! I couldn't be happier with the way they pack down and work. These should be a must have for anyone going backpacking and trying to minimize weight.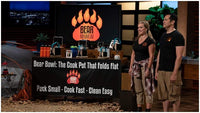 Shark Tank Season 10 Episode 1
Cory and Heidi Santiago Pitching to the Sharks